Morning all, thank you for the entry on to the forum. I've bought a black Swing from a gentleman in Surrey who bought this 2012 26,000 mile bike after 50 years off motorbikes, but couldn't get used to the clutch less ride, and the low speed manoeuvring. The chap did make a few posts on the UK Swing Facebook page, and the bike had a tan brown saddle when I bought it, with a splodge on the saddle, which turned out to be brown vinyl spray paint! (Stripped back to black using thinners :D )
I live in Devon near Exeter. As a late forties rider, I have owned nearly 80 bikes in my time, everything from a Yamaha FS1E to RD350LCs, up to a ZZR1100, a R1150R and a ST1100 Pan. Also bought a Burgman 400 when they first came out. And an original Silverwing 500 (sold to my Dad!) Although I love cars too, bikes have always represented personal freedom to me, and offer a connectedness with the surroundings, in a way that cars never can IMO.
I don't really have any friends with motorbikes.  No one who comes round checks out my bikes. So I have no pressure (apart from myself) to ride with others, or to own a particular brand or type of bike, or get egged on to keep up with other riders.
A big part of me being convinced it was time to get back into maxi scooters was the MCN review online, along with the glowing owner reviews.
Finding the issues:
On getting her home, (she's long, but just fitted in my camper van) I filled up the fuel tank the next day at Exeter Sainsbury's to go for a ride, but on walking back to the bike I saw fuel leaking out the bottom of the bike. I had noticed she'd smelt strongly of fuel in the van, but as the tank was only half full, no fuel was leaking on initial inspection with the owner, or on the test ride. I rode home and stripped the plastics back to get a look underneath. I spotted the seal around my fuel sender / pump was puckered, and on refilling the tank it was clear the seal had gone. (Tip: put talcum powder around an area to spot a fluid leak).
A chap who's a mobile mechanic in my area likes Honda's and was happy to take the bike to his workshop (especially as the plastics were all off!!) and quickly ordered and replaced the seal. Job done. I got him to do new plugs and oil and filter whilst he had it. I then thought perhaps the gauge was faulty as there was possibly two thirds full tank at this point, but it was showing completely full. But it started going down again as I rode, and I'll have to monitor that. Perhaps SW fuel gauges aren't all that accurate.
Other thing to sort is the bike has been fitted with heated grips which work, and spotlights on the lower fork legs, which on being turned on immediately blow their fuse, so got to sort that. Bad wiring probably.
Impressions:
So, I've ridden a bit on her so far, and my daughters accompanied me several times. My first impressions are of a surprisingly tight / new feeling bike, well screwed together, much easier to move on my gravel than my other bike R1100RT, LOVE the twin's engine note at tickover sounds like a purr, easy to ride, don't try and blip throttle at walking pace as there's a fraction of a second where the drive kicks in but could cause you to drop it (previous owner). Underway this thing flies!! Wow. Who knew 50hp could be enough. Compared to my 1100 twin, I wasn't really missing any go. Incredible. Love the under seat storage. Love the hand brake. Love the aero Givi screen. Really like the exhaust twin pipe look at the back. Would like the spotlights further up higher near handlebars, I don't like them down low as it emphasises this "isn't a real bike". Will attempt to install higher up (anyone else fitted spots higher at front?). Bike is capable of being both fun on country roads, and leggy enough to cope with lingers rides / dual carriageway/ motorway.
I've ordered the back rest for the pillion seat. Can't see anywhere you can buy (UK) a rider back rest?
I can see the SW snags might be: small tank range (will see if it bothers me, I rarely ride further than hour and a half), lack of engagement with the vehicle itself (ie missing clutch and gears, which I'm not), image not macho enough (I think I'm passed all that now!). So far I think it's a pretty amazing bike!
It may be good enough to replace my R1100RT, which is an incredible piece of engineering, particularly the telelever fork. BUT she's a weighty thing. And having had a rotator cuff shoulder op, I do find her a struggle to manhandle in and out of my garage on gravel.
One question I've got: are they still making the Silverwing in 2021 now?
Another question: does the bike have a fuel usage computer trip like the Pan European?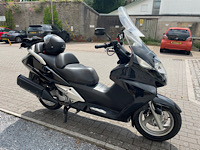 Picture of my bike in Ashburton, Devon.
Seat had been badly sprayed, and some had rubbed off, so I removed the brown (although it did look ok from a distance.)
Finding the leak.
My other bike - lovely 1997 RT.
Thanks all, safe and happy riding to y'all!