Thanks for asking Tim ... here's an update.  I've determined there are three methods for converting a white lens into a selective yellow (the technical term) lens colour.  
1) Buy universal yellow/amber covers widely available on eBay, Amazon etc. for the 3" pods I have.  This is a bit of a hit and miss approach unless it is made by the same manufacturer as the light pod itself (not available).
Although there are some standard sizes (i.e. 3 inch), there is no guarentee they will fit my specific light pod shape.  I've read one fella heating the arms  and reshaping them to fit but there again, no fit guarentees in advance.      
2) One can cover the white lenses with yellow film ... the three main brands I discovered are 3M, Kapton and Lamin-X (which seems to be the most commonly preferred brand).  In my research, there are examples of film melting/distorting due to the heat generated by the LED chips and the damaged film then needs to be replaced as needed.  Some recommend changing the film yearly anyway.  Not going to happen for me.
3) Painting the white lenses with multiple thin layers of yellow paint is an option.  The two paint brands most commonly mentiined are Krylon antique glass paint (yellow) and Dupli-Color Metalcast Yellow which is my preference as it is rated up to 500*F.  
However, if either paint application chips due to stones etc., you are into a repair/repaint scenario.  Daniel Stern's website has a good article on selective yellow lenses and he mentions the Dupli-Color product and the Kapton tape. See linky below.     
Daniel Stern's Article
OK, for the actual light pods and mounting them, I fabricated an additional crossbrace to DennisB's light bracket so it can hold 2 smaller pods for daytime conspicuity and fog/inclement weather riding and 2 larger (3") combo spot/driving pods for rural/dark road night riding.  It fits directly on top of DennisB's bracket and I made the holes align for fitment.  It looks crooked in one of the pics but it is not ... it is the tilted wheel that creates that illusion.
The rough fabrication is finished and now I'm fiddling with fit details.  I'm not overly thrilled about the way the light pods look mounted (bulky) but I'm sure this set-up will turn the night into day when I need it to.  
The chrome pods are the ones DennisB mentions in his various posts ... the Optronics QH87CD available from US Walmart stores.  I don't know the exact specs but they are 55w halogen bulbs ... I assume a bright white colour (haven't tried them yet and am only going by what others have written).  People seem happy with them.
I believe the beam pattern is flood which is what I want for these pods.
According to DennisB, you can buy different beam patterned bulb inserts so I'm not worried about what comes out of the box.  I plan on using them with a dimmer ... generally as daytime conspicuity lights (at a lower power level) and then for inclement weather (fog, rain etc.) at higher power as needed.  I will convert the lenses to a selective yellow colour (I understand this will take about 6 thin coats of the Metalcast paint).
The larger, black 3" pods are LED Rider LX40 brand pods and are rated at 4200LM and 5000K
each
.  That's a lot of light when activated.  I am also thinking of converting these to selective yellow lenses but haven't made up my mind completely about that.  They too will be on a Skene Designs dimmer and separate on/off switch as they will only be used as required and not for everyday, in town riding.   
Even though I am a "form follows function" person, my issue is the different setups I'm playing with look bulky and disproportionate.  A much cleaner look would be to invest in a very good pair of say Clearwater level quality lights (with the optional yellow lens covers) and be done with it.  I refuse to spend over USD$700 to do that ... especially since I already have the above mentioned pair of light pods and obtained them for a fraction of the price of the Clearwater Darlas.
Here are some pics of what I'm playing with.  My cross brace is not finished (final shaping and painting etc. yet to go) and the pods are just loose fitted for illustration purposes.
Dennis B's bracket below: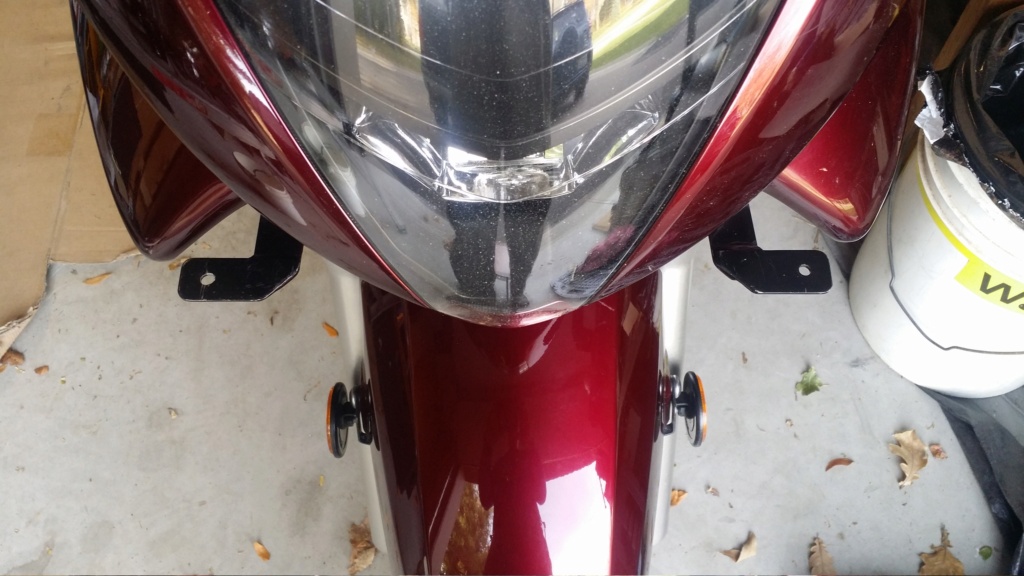 The crossbrace extention I fabricated below: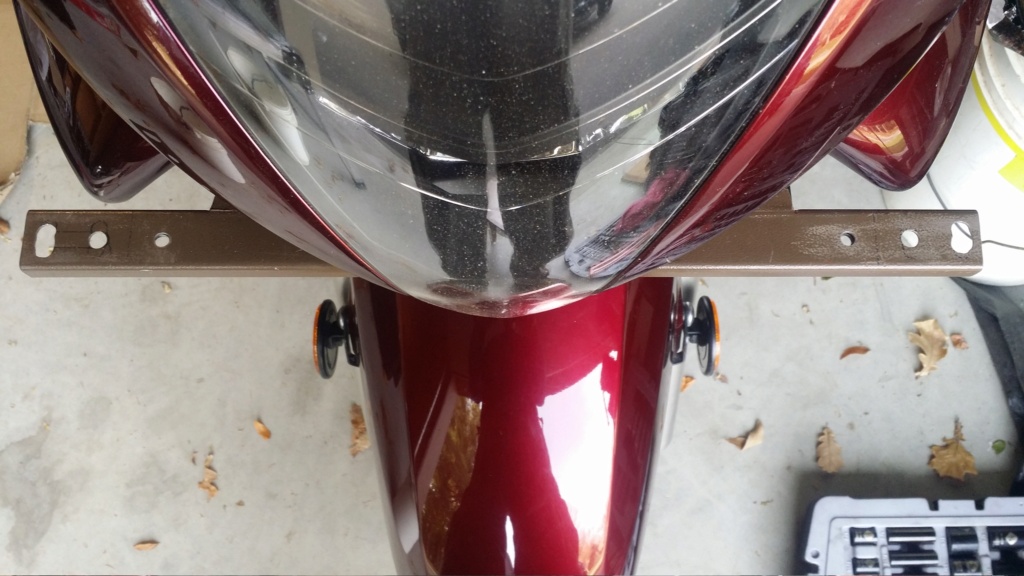 The two sets mounted 3" black pods on top; 2" chrome pods on bottom below:
The two sets mounted 2" chrome pods on top, black 3" pods on bottom below:
Besides the "oversized" look of the 4 pods which I'm not happy about, I have another issue which relates to suspension travel.  If the chorme pods are mounted above, and the black pods are mounted below (as illustrated in one of the pics), I only have about 5.5 cm of clearance between the bottom of the bigger black pods and the top of the fender at full handlebar lock.
According to the FSM, there is about 11 cm of total suspension travel which means that if I am turning (full lock) and the suspension compresses completely (unlikely unless I am about to crash anyway), the bottom of the closest 3" pod may come in contact with the top of the fender on that side under those conditions.
Mounting the chrome pods below and the black pods above creates about another 1 cm of suspension travle space (6.5 cm) but well short of the 11cm of total travel cited in the FSM. I also don't like this look as much but it makes more sense if the chrome pods are going to be used for conspicuity and for inclement weather situations.
Just another argument for going with a smaller, more powerful set of auxiliary lights (ideally with removable amber fog lens covers) and be done with it.  I could recoup some of my money by selling the chrome (new & never used) and black pods I already have.  However, I am frugal and want to see if I can make the bits I've already assembled work.
All creative and
constructive
feedback welcome.  Not interested in reading what the oppositionists have to say.