Further to Ken J's thoughts on a wiring mod to allow the rear turn signals to also function as marker lights. Since the front turn signals also function as marker lights there must be something here which allows that to happen without negatively effecting the dash indicators. How can we determine how that works? Both the front and rear signals are fed by
Lb
and
O
wires —yet the front serves as both marker & turn lights. But there doesn't seem to be any type of diode to stop cross feed —on this later wiring diagram.
Here is a view of the Combination Meter circuit from an '07 and later non-ABS model. Note that it doesn't show the diodes and transistor which appear on Ken's '02 - '07 wire harness.
And here is the rear lights cluster. Since the license light is ON all the time I wonder if diodes could be used to jump the
Bl/Br
of the license light to the
Lb
and
O
of the rear turn signal lights?
Or possibly jump the
O, Lb
and
Bl/Br
wires at the light cluster and add a diodes at the 9-pin connector for that light cluster to stop back feed to the CM?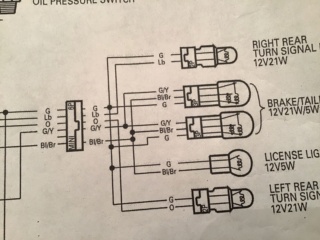 Mind you this is all speculation on my part because I have no idea what I'm talking about.