I have a used trailer hitch for the Silverwing.  
$90 plus shipping.   This is a forum picture of what I have: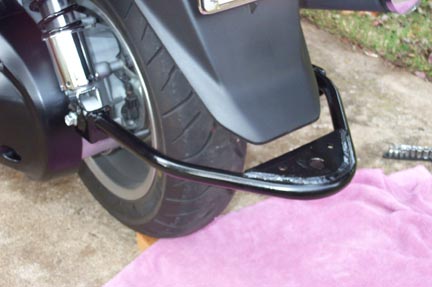 I also listed a perfect connector on a previous post.  Add them together and get the two for $100 plus shipping.  Unless someone buys the perfect connector first.  
If you email me I will send you some additional pictures of the hitch.
This is perfect for adding a hitch rack such as this one.  This is the exact hitch rack that I used on my Silverwing and continue to use on my Goldwing.  I often hauled a 6 pack cooler and various other camping gear on it.  
This is how that hitch rack works:
NOTE:  This is an item for sale not a discussion forum for the merits of towing a trailer behind your 600cc Silverwing.  There are those that have done it, myself included and it does fine.  If you wish to discuss this, please do so in PM's.  I would be happy to share my experiences off this thread.  
Please, if you think it is a bad idea, fine, start a thread someplace else or pull up an old thread on trailers on this forum and post to your hearts content.  Stay off of this one.  I don't wish to debate this here.  
Thank you for your interest.